New Frax Offline Resources to Engage Students and Assess for Understanding
No two classes, hours, or days are ever the same in the life of a teacher. Educators know that students need variety, including an appropriate balance between technology and paper-based resources. Adaptive and game-based, ExploreLearning Frax uses the latest research and instructional methods to help students learn fractions. Students enjoy space-themed galaxy missions, and teachers benefit from comprehensive online and offline materials to support and monitor their understanding.
In Sector 1 of Frax, students develop a strong conceptual understanding of fractions as numbers. In Sector 2, students build on that knowledge to work with fractions in a variety of contexts, including decomposing fractions, generating equivalent fractions, comparing fractions with unlike denominators, and adding fractions in tenths and hundredths.
It's recommended that students complete three Frax online missions a week, and continue the journey with Frax teacher support resources. Expanded classroom tools for Sector 2 are now available, including Quick Checks for 30 new Frax missions and five new Captain's Checkpoints (events).
Find out how to make the most of the Frax experience with these materials!
The Teacher Guide
The Frax Teacher Guide is an essential tool for educators to support students as they engage in the Frax missions. It includes the instructional sequence for each sector, teacher notes, and more!
Included in the Teacher Guide:
Mission objectives and activity descriptions
Key language
Mission debrief questions
Captain's Checkpoints
Quick Checks
Captain's Checkpoints
Students work individually to build an understanding of fractions in Frax missions, but there remains a need for them to transfer their thinking in a social, group environment. As students verbalize their reasoning during problem-solving, they can take their experiences from Frax missions and apply their understanding in new situations with Captain's Checkpoints.
Below is an example of a Captain's Checkpoint for Sector 2. In this event, students try to catch all the pesky bots, called NanoBots. They solve clues with their peers, using the skills they learned from the online Frax missions to confront new challenges in a group-based environment.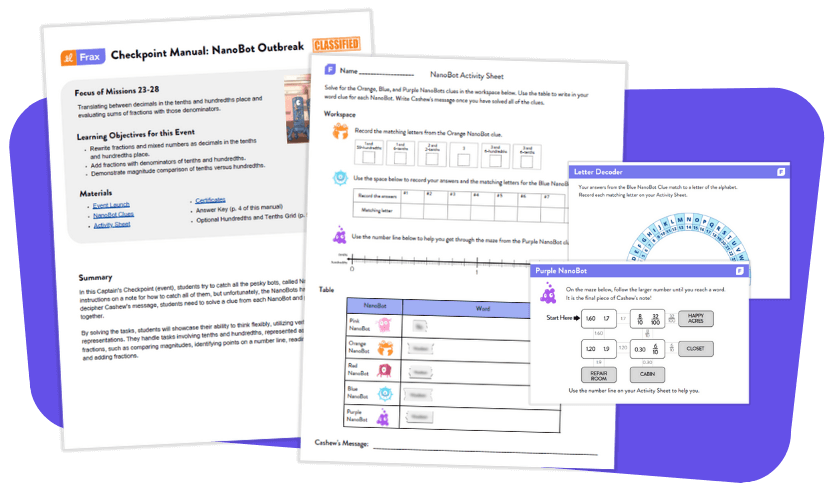 Quick Checks
Frax Quick Checks are an additional resource for teachers to use during Frax implementation. These brief questions can be used as formative assessments to check for understanding after each mission. Each Quick Check includes four questions that assess the skills and reasoning used in a particular Frax mission, with items mirroring the tasks students completed in the online games.
How can I use them?
Exit tickets
Classwork grades
Pre-assessment
Task cards in math stations
Prompts for math discussions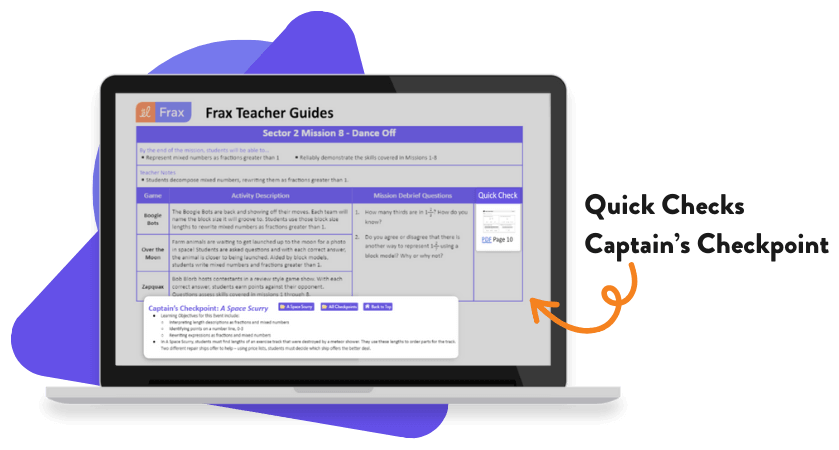 All in one place
Find all of these engaging resources in the Teacher Guide. Each Frax mission has a Quick Check linked in the last column. Every five to eight Frax missions, there is a link to the Captain's Checkpoint along with a summary of the event and the learning objectives.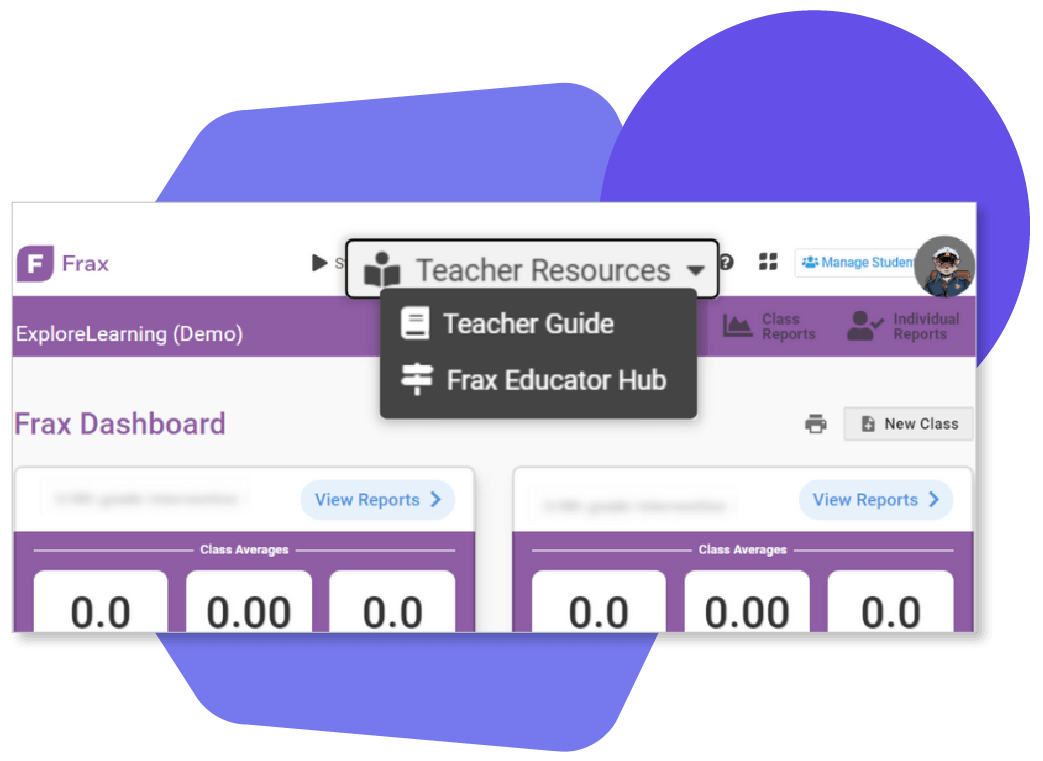 Get started with your offline Frax journey today! Access the Teacher Guide by logging in to your Frax account and selecting Teacher Guide from the Teacher Resources drop-down menu.
Not a current Frax user? Experience the online and offline fun in your classroom today!
Try Frax Free