Frax and Reflex: Unlike Anything Ashlyn Williamson has Used Before
Ashlyn Williamson teaches 3rd-grade math at Bellevue Elementary School in Hattiesburg, MS. As she was heading back into the classroom with her students following time away due to COVID, she heard about a free grant for ExploreLearning Reflex from a co-teacher. "We needed a way to get kids excited about working on fact fluency as well as a way to monitor those who were working from home. Reflex was the God-send for both!" she noted.
Ashlyn was thrilled to have a quick way to check for fluency, but the data reports really sold her. Because they are easily printable, she uses them for progress monitoring with her students receiving tiered interventions and sends them home to communicate any struggles and successes with parents.
"Frax & Reflex are unlike anything we've used before. They engage students instead of just throwing problems at them. They love the fast-paced games and enjoy moving up in levels. Other programs we have used in the past simply flash a fact in front of them and give them a short time period to type an answer. With Reflex, it engages them and makes it a game while also timing for fluency," said Ashlyn.
They love that it's like a game.
She set a classroom goal of getting at least three Green Lights per week for each student. Her students self-monitor their progress. What happens when they reach goals? They receive something out of the treasure box. While there are designated Reflex & Frax times throughout the day for classwork, students are also encouraged to log in to work at home.
Ashlyn sees improved learning in the classroom, especially for her struggling students. "They love that it's like a game. For Reflex, I love that it is a quick check that really assesses their fluency for their facts. Same with Frax! They are able to drag, drop, and manipulate the blocks to show that they understand the fractions."
After her entire grade level implemented Reflex, teachers saw a jump in test scores for students' multiplication and division facts. They brought the data to the administration. Now, Ashlyn's entire school has access to Reflex and Frax!
What do her students think about Reflex and Frax? Check out these quotes:
"I love learning new things about fractions!"
"At the beginning, it doesn't make you rush your fingers as fast as you can, and I like the missions."
"You can challenge yourself by seeing how fast you are going on Reflex!"
"I like Frax because it gives you goals to complete."
"I like how when you do a mission on Frax, it is all in space."
Ashlyn and her students agree! Reflex and Frax work together to make math seriously fun!
---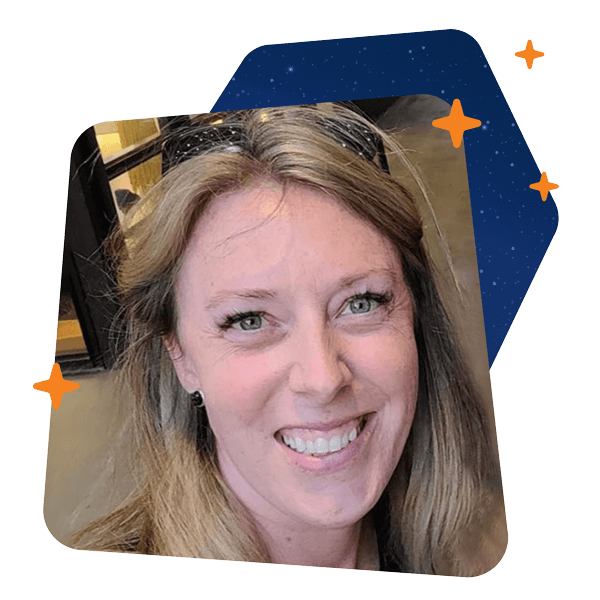 Ashlyn Williamson graduated from The University of Southern Mississippi and has taught for ten years. Ashlyn and her husband, Steven, have two daughters, Anna Marie and Mary Grace. They are a very outdoorsy family. Most weekends are spent outside or on the lake. Besides teaching, she enjoys deer hunting, fishing, gardening, canning, and spending time with friends and family.